96 percent of organizations are using cloud computing and your business should be one of them.
There are numerous benefits to moving your data to the cloud but making the transition can seem daunting. Fortunately, Microsoft has created a unique platform with a range of tools to help make the transition fast and smooth.
This platform, called Microsoft Azure, can help your business migrate infrastructure, applications, and data to Azure. Keep reading to learn more about how Azure migration can work to take your business into the digital age.
What is Microsoft Azure?
Microsoft Azure is an Infrastructure as a Service (IaaS) platform. IaaS is a computing structure managed using the internet. It's a type of service that allows businesses to store their data in the cloud.
When your business moves to the cloud, you can quickly scale up and down, only paying for the services you need. You won't have to worry about financing and managing your own physical infrastructure or physical servers.
Each resource you need is sold as a separate service. You'll only pay for what you need for as long as you need it.
Microsoft Azure is a cloud computing service provider that manages the infrastructure. You will still manage your own software, middleware, applications, and operating systems.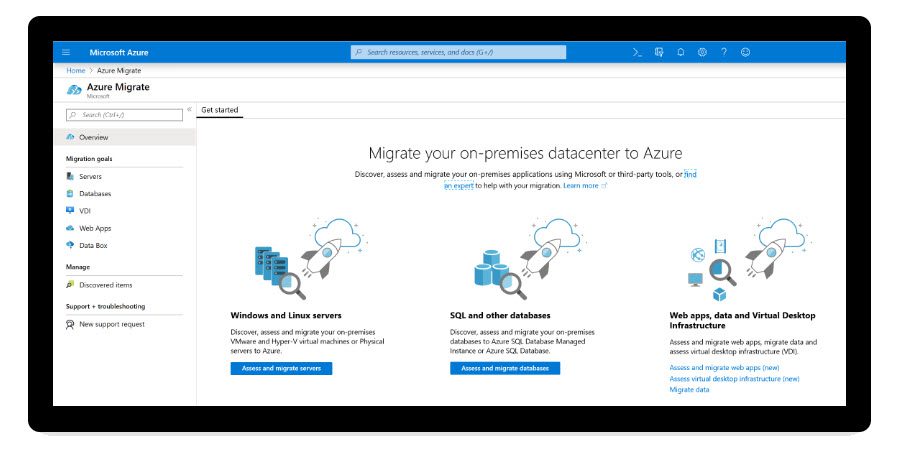 What is Azure Migrate?
The actual process of migrating to Azure can be overwhelming but it doesn't have to be. It's important to analyze the needs of your company to determine whether you should move all of your data at once or whether you need to rework before migrating. Azure Migrate is a service that helps you migrate to the cloud. Azure Migrate is known for having a minimal impact on business function and having a high return on investment. Azure Migrate can also help you assess how your workloads will perform and how much it will cost to host them in the cloud. It provides a centralized location to track the assessment and migration of your infrastructure, data, and applications to the cloud.
Benefits of Azure Migrate
Range of Tools
The Migrate hub comes with a wide range of tools to help you with migrations and assessments. It also integrates with other Azure services and has tools for independent software vendor (ISV) offerings. It's easy to select the tools you need and connect them to Azure Migrate.
Unified Migration Platform
This is a portal where you can start, monitor, and run your migration to the cloud. Throughout your migration project, you can track your project in this central location using Azure and other tools.
Workloads
Azure Migrate includes tools that can help you conduct assessments and then complete migrations of the following:
Data
You can quickly and easily move large amounts of data to Azure with the Azure Data Box product line. If you need to move offline data, you can use Azure Data Box products.
Servers
Azure includes tools such as Azure Migrate Server Assessment and Azure Migrate Server Migrations to help you assess and move servers to Azure VMs. The Server Assessment tool can help you determine server readiness for migration, Azure sizing and cost, as well as cross-server dependencies. It will also determine the best ways to migrate dependent servers. Server Assessment involves deploying a lightweight appliance on-premises that can discover on-premises machines and send data to Azure Migrate.
Web Applications
Azure features an App Service Assistant to help you assess and migrate web applications to Azure App Service. You can also use the Web App Migration Assistant within the hub to assess on-premises websites. The migration assistant will help you migrate .NET and PHP web apps to Azure.
Virtual Desktops
You can use ISV tools to migrate your on-premises virtual desktop infrastructure (VDI) to Windows Virtual Desktop in the cloud.
Databases
You can use Microsoft as well as ISV tools to assess and migrate on-premises databases to the cloud. Azure's Data Migration Assistant helps you assess on-premises SQL server databases. It works by integrating with Azure Migrate and providing information about potential issues for migration, the best path for database migration, and unsupported features. Data Migration Services is the tool that actually helps you migrate the databases after assessment.
Azure Migrate Versions
Current Version
This version can be used to create Azure migrations projects, assess and discover on-premises machines and more. You can read more about new features included with this version here.
Previous Version
The previous version of Azure Migrate only supported the assessment of on-premises VMware VMs. If you have previously used this version, you should upgrade to the current version. The older version can no longer support creating new Azure Migrate projects and you shouldn't use it to perform new discoveries.
Integration With ISV
Besides including native tools, Azure Migrate can integrate with the following ISV services:
UnifyCloud
Cloudamize
Device 42
Carbonite
Turbonomic
Rackwarre
Corent Technology
Lakeside
Microsoft Azure Migration Services
If your business is making the transition to the cloud, using Azure Migrate to facilitate the transition will make the process smoother and faster. However, understanding how to use all of the tools available to you and how to integrate them with other ISV services can be complicated. While Azure migration is a cost-effective way to increase efficiency and improve your business operations, it's essential that you do it right. Contact us today to learn more about how our services can help your business.