If you are reading this, you're likely considering migrating SharePoint to Office 365. When considering a migration to SharePoint Online, there are some critical questions to take ask yourself early on to ensure your project goes smoothly. Here are 5 questions we recommend asking yourself before getting started on your migration efforts.
Question 1: What is the first step in planning when migrating SharePoint to Office 365?
First, there are several things you can do pre-migration to prepare. We find the most important step is taking a full inventory of your current environment to ensure nothing is left to chance.
Understanding your current environment in detail will allow you to accurately plan your budget, project duration and the necessary resources among other things.
Fortunately, Microsoft has released the SharePoint Migration Assessment Tool or SMAT. When run against the target environment you're looking to upgrade, the tool will generate numerous Excel files with details regarding potential issues in your SharePoint environment.
The good news is, it works for all versions of SharePoint Server including MOSS 2007, SharePoint 2010, SharePoint 2013 and SharePoint 2016.
What's the bad news? Each identified area of risk generates it's own Excel document filled with data – potentially 100's or 1,000's of rows worth. Consequently, analyzing the data effectively and efficiently can be time-consuming at best and nearly impossible in complex environments.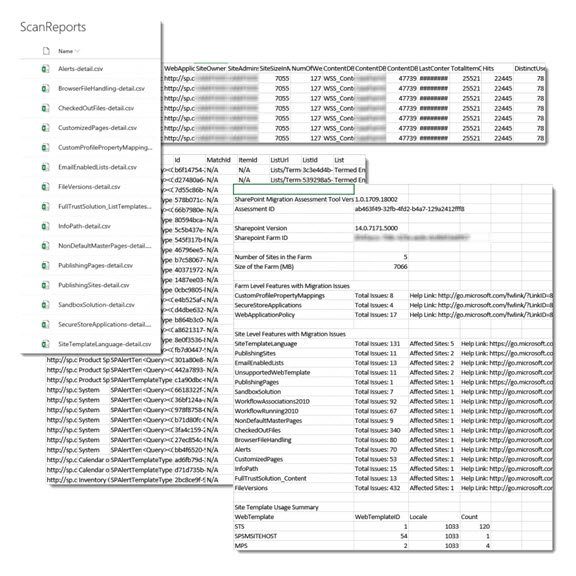 SharePoint Migration Assessment Tool reports in Excel
It's easy to become overwhelmed by the amount of data and not give it the attention it deserves. However, a successful migration requires that each piece of data be reviewed thoroughly.
We know firsthand how time-consuming and costly this can be for clients. To speed up the process, we developed a tool using Power BI.
Our SharePoint Migration Analysis Report transforms the details into easy-to-read tables and graphs. As a result, you can focus on planning your migration and not spending weeks or months sorting through data.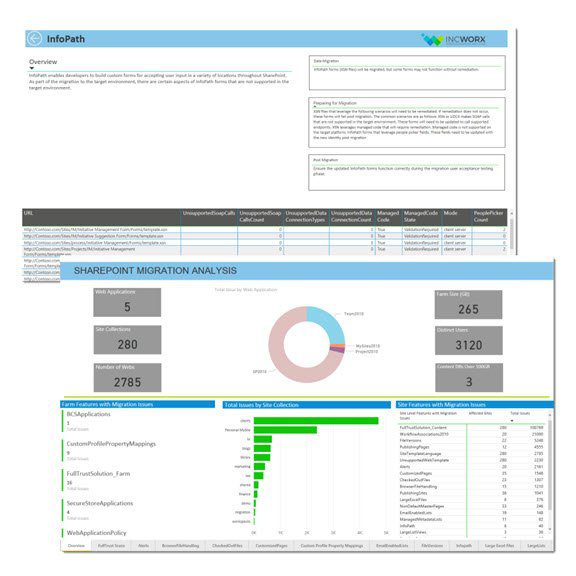 SharePoint Migration Analysis Reports in Power BI
Question 2: Will my custom code work after migrating SharePoint to Office 365?
Simply put, many custom apps and tools that have been developed for SharePoint Server won't work in Office 365. To avoid unplanned costs and project delays, it's critical to identify those that will need to be redeveloped early in the migration process. Our SharePoint Migration Analysis Report – which you've hopefully already requested – will cover custom items in several areas, including;
Customized pages
Full trust solutions (farm-level solutions)
BCS connections
Master pages
Apps
In most cases, it will be necessary to rethink and rebuild customizations to work in Office 365.
The modern tools available in Office 365 work together to create an optimal solution. For example, these solutions will often include a combination of Microsoft Teams, Microsoft Flow, PowerApps and more.
Otherwise, in situations where these will not suffice, additional custom development or 3rd party tools are options.
Question 3: Should I migrate my old data or start fresh?
Third, is a question that many don't consider when migrating SharePoint to Office 365.
Often, we find that at most organizations their first attempt at SharePoint was nothing more than replacing file shares with document libraries.
This provided easier access and perhaps some version control but didn't take advantage of the robust features available in SharePoint. Therefore, when considering an upgrade, the initial thought process is often similar – pick everything up and move it. The common misconception is that this is "easier".
Ordinarily, we recommend that clients consider whether they truly need and would benefit from all of the data.
In many cases the data being moved is out of date, inaccurate, duplicate and often simply not needed.
What's the most significant effect of moving everything? It complicates ease of use and as a result, can negatively affect user adoption, both of which are critical when implementing a new system.
Some additional questions:
Do I want to remain in Classic sites or move to Modern?
How does OneDrive for Business fit into my plans?
Can I benefit from implementing Teams for improved collaboration and communication?
Am I moving a large number of versions that are not necessary?
Is my data properly secured as it exists today?
Previously, one of our team members outlined the idea of a transformation vs. migration in this blog post Office 365: Don't Just Migrate – Take a Closer Look
Question 4: Which Tool is Best at Migrating SharePoint to Office 365?
Fourth, there are a lot of migration tools to consider when migrating SharePoint to Office 365. Each has pros and cons. Over the years, the team here at IncWorx has had an opportunity to test a lot of them on both simple and complex migrations. One of these tools always stands out against the rest – Sharegate Desktop.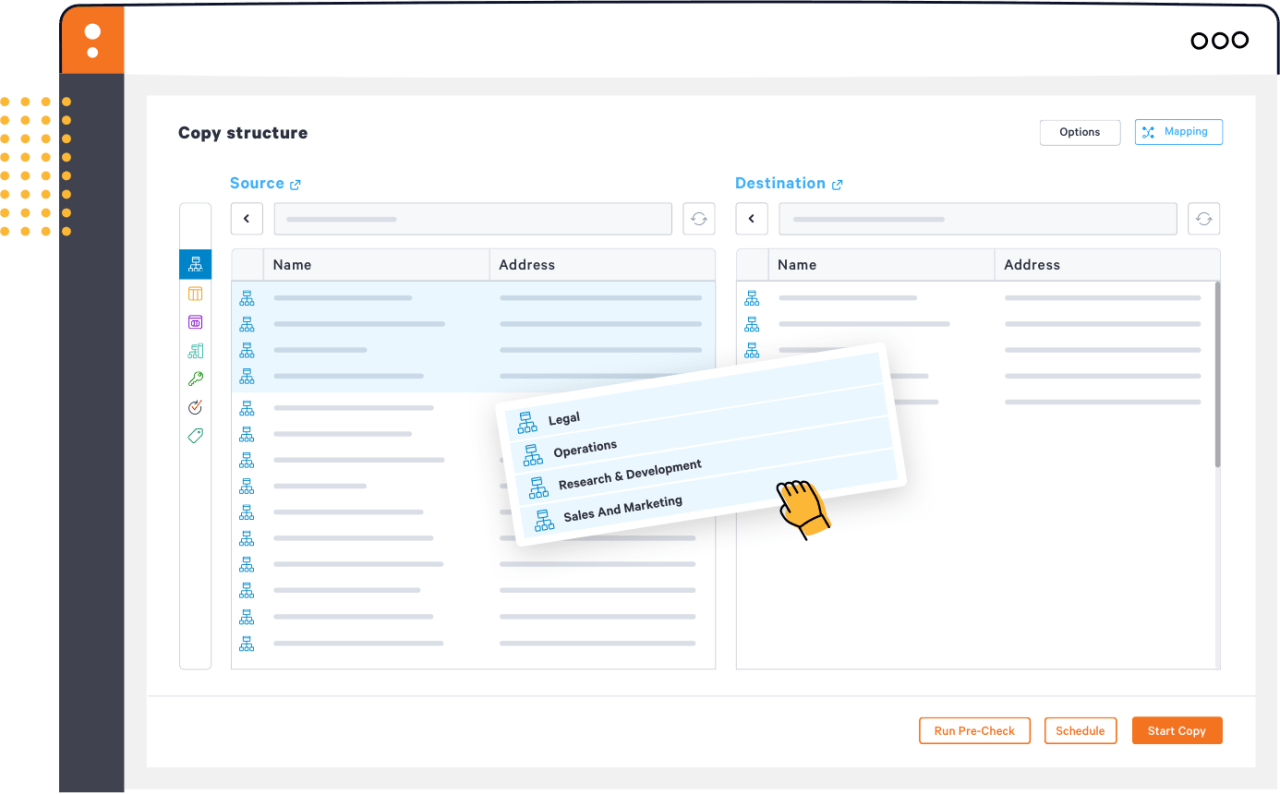 Compared to other tools, Sharegate is not only one of the easiest tools to learn and use but offers some outstanding benefits, including:
Unlimited data migration
Migrates data quickly
Easy to create data maps
Schedule and automate migrations
Validate permissions
Generally, we like Sharegate. However, other tools may work given your situation. We would be happy to discuss the differences with you. Just reach out at the top of the page.
Question 5: How do I validate my migration plan?
Lastly, how do you validate your plan?
We work with a lot of organizations that have done the analysis, developed a migration road map and have a strong team ready to execute.
Unfortunately, what they don't have is decades of combined experience to learn from. This is where our team can help you.
By conducting a SharePoint Deployment Planning Services (SDPS) engagement we can validate all of your analysis and plans, giving you the confidence you need to move forward with a successful migration.
From the start, we will work with you to customize your SDPS engagement to focus on the most critical areas, including reviewing your analysis, conducting workshops with your team, completing a technical assessment and building a proof of concept.
Fortunately, some organizations with a Microsoft Enterprise Agreement will qualify for free Deployment Planning Services. Learn more about Software Assurance Planning Services and see if you qualify.
It's hard to believe we started these all the way back in 2010 and even won ourselves a Partner of the Year Award while we were at it!
Migrate SharePoint to Office 365 the Right Way
In short, while not a comprehensive list nor a substitute for professional help, asking yourself these questions will ensure you're focused on some of the key areas of any project migrating SharePoint to Office 365.
Unfortunately, we have worked with clients in the past who did not ask these questions. In the end, they discovered too late that Office 365 was not the right platform for them. Given their existing business applications and reliance on some SharePoint functionality that won't work in Office 365 they were forced to start from the beginning.
If you'd like to avoid project rework, contact us to discuss your situation and determine how we can help you quickly complete your migration.