One of the most important parts of running a business is figuring out how your company can improve. There are always areas where you could be a little more efficient, make your employees a little happier, or go that extra mile for a customer. Microsoft PowerApps is a great tool to help you do that. Whether you've been a PowerApps devotee for years or are just hearing that name for the first time, it offers incredible functionality to your business for designing and implementing creative solutions. Recently, Microsoft has changed its licensing model to make it accessible to even more customers. Read on to learn about the new PowerApps pricing plan and how it can help your business.
What Is PowerApps?
Microsoft PowerApps allows you to create innovative solutions you need to help your business run better. The platform provides a rich set of tools that help you create and run apps to help every level of your business work together more efficiently.
The platform saves you from having to hire an app developer or learn everything there is to know about app coding – you can use intuitive visual tools that allow you to create the solutions you need.
PowerApps puts app building blocks in the hands of professional developers. Think of it as a Lego set for your business solutions. Instead of having to build the blocks from scratch, you can just combine them into any shape and function you can dream of.
PowerApps is designed to work on any device, so you never have to worry about customizing for phones, tablets, or computers. Let your users choose the device that works best for them; you can depend on the app to be there for them when they need it.
What Is Microsoft Flow?
Anyone who's ever tried to play music in the background of their C25K workout while also running your Charity Miles app will know the importance of app flow. And once you've built all these wonderful apps with PowerApps, you don't want to have to fight to get them to play nice together. Luckily, Microsoft Flow has you covered.
Microsoft Flow helps you integrate different apps to keep everything running smoothly. You can synchronize files, collect data, and get notifications between all your different apps. It even offers an artificial intelligence builder that can help you automate tasks and keep your team moving even faster.
Canvas vs. Model-Based Apps
There are two types of PowerApps you can build: canvas apps and model-based apps. Canvas-based apps let you design your entire program from scratch. You drag and drop different components to create your end-user experience with no boundaries or limitations.
If you want a little more guidance, the model-driven apps allow you to work within templates. The layout is largely determined for you, and all you have to do is drop the details into the slots you want. It makes putting together new apps a cinch for people who don't want to mess with all the small details of app design.
New PowerApps Licensing Model
At the Inspire Conference in Las Vegas this year, Microsoft announced a new licensing and pricing system for PowerApps. Previously, there have been two plans: Plan 1 and Plan 2. Plan 1 gave you access only to the canvas apps, while Plan 2 allowed access to the model-based apps and custom code plugins.
But these two plans didn't allow for much user customization. Whether you were building two apps or two hundred apps, the price didn't change. The new plan will make PowerApps more accessible to small businesses and other "citizen developers," as Microsoft calls its target audience.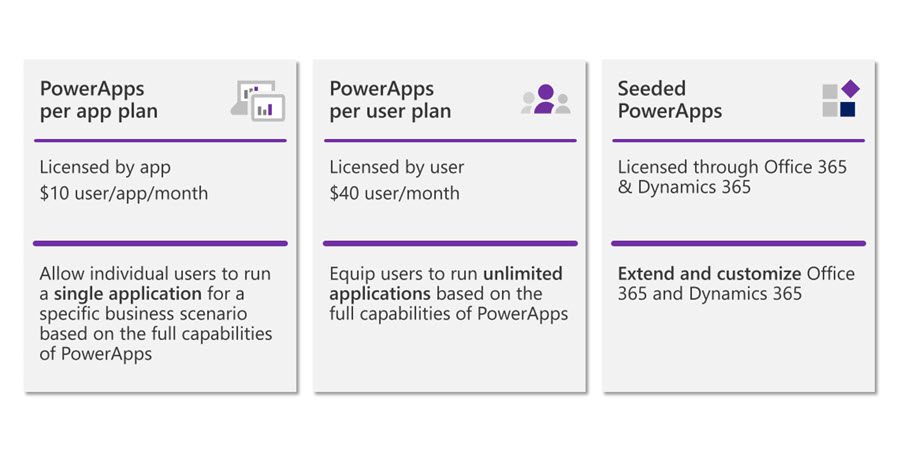 Per-App Licensing
In the new licensing update, Microsoft will offer a per-app licensing option. $10 a month will allow you to build two custom apps using either the canvas or the model-based apps. You will also be able to create one PowerApps Portal to allow external users access to your app. This affordable plan opens the door to PowerApps for small businesses who want to seek innovative solutions without paying a premium price. It will also allow budding app developers to create creative solutions to today's problems and act as an entry point to more advanced programming.
Per-User Licensing
If you're running more than four apps but don't want to have to pay an arm and a leg to do it, Microsoft has you covered. Their per-user license comes at just $40 a month and allows for unlimited apps. There's no need to put a cap on finding solutions for your business; this license lets your imagination run wild and allows you to explore any new ideas. You can use any of the PowerApps features with the per-user plan, which makes it a great option for small businesses. If you have four employees and a big vision, you can run four licenses and use PowerApps to put your plans into practice. It's a small price to pay for unlimited access.
PowerApps Portals
PowerApps Portals allow you to make your apps accessible to the public. These work similar to medical portals, where external users can log in to access needed features from the comfort of their homes. You can get a Portal license for $200 a month per 100 logins. If your app isn't the sort that requires logins, you can set up your license to run per page view instead. You'll pay $100 per 100,000 page views, with additional page view capability expansion packs available. Considering the money your business will make if even one-tenth of those 100,000 views spend money with you, the investment is more than worth it.
Microsoft Flow Licensing Model
Flow Per User Licensing
Not all users need Microsoft Flow, so Microsoft has set that capability up under a separate license. Like the PowerApps licensing, the most basic option for Flow licensing is per-user. This plan costs just $15 a month.
The per-user Flow plan will allow individuals to create an unlimited number of workflows and business processes as they need. Combined with the per-user PowerApps licensing, this plan can offer an incredible opportunity. Unlimited app creation and unlimited workflow capability for just $55 a month can help your business race ahead of the competition.
Flow Per Business Process Licensing
If you want to get all your employees in on this power, Microsoft also offers per-business process licensing options for Flow. This opens the Flow to everyone in your organization, whether you're running a mom-and-pop shop or a major corporation. There is no limit to how many users can be on this plan. Flow per business processing will cost $500 per business process. This plan is available for up to five business processes, and after that, each additional process will be just $100. The new plans eliminate flow trigger frequency and runs limits, making it easier than ever to keep your business running without a hitch.
Existing Plan Transfers
If you have an existing plan with Microsoft PowerApps, Portal, or Flow, you may be wondering how this will transfer to the new setup. The new plan goes into place on October 1, 2019, so there are only a few days left before the transition. But, Microsoft is watching out for its existing customers. If you already have a PowerApps, Portal, or Flow plan, you'll be able to stay on your current plan until it runs out. At that time, you can pick one of the new plans or, depending on the terms of your contract, you may be eligible to renew under your current terms. For new customers who like the sound of the current Plan 1 and Plan 2, it's not too late to sign up for those. Up through April 1, 2020, you will be able to sign up for either the current or the new PowerApps plans. The current Plan 1 costs $7 a month, and Plan 2 costs $40 a month.
PowerApps and Office 365
Office 365 is Microsoft's cloud service that is designed to help integrate your team and projects. It provides the latest in AI tools and online file storage, as well as encouraging better communication and collaboration. And it offers intelligent security that protects your files without slowing down your process.
Under the previous system, some limited versions of PowerApps were available with an Office 365 subscription. Some connector apps were available under this subscription, but you needed a premium subscription if you wanted access to every connector. The new system will keep that model, but the premium connectors will be available with a standalone PowerApps or Flow subscription.
Some connectors have been reclassified to premium with the transition. Azure and Dynamics 365 connections are now premium, as well as Event Hubs, Service Bus, and SQL server. There will also be some per-user use limits to prevent one user from exhausting the company's entire quota for the license.
Any apps and flows which you've created with an Office 365 plan license prior to the transition will continue to work after October 1. You'll have a grace period before any connectors you've used will be considered premium. You'll also be able to continue creating apps and flows with your 365 subscriptions until October 1, 2020, or until your current subscription expires, whichever is longer.
PowerApps and Dynamics 365
Dynamics 365 is a Microsoft app that allows your company to collect data to operate more efficiently. It can help you gather and use data-driven insights and automate everyday tasks. It can also help you communicate more effectively with your customers and create more meaningful engagement. Many businesses have used insights from Dynamics 365 to create apps and solutions with PowerApps. In the past, a Dynamics Enterprise license included a PowerApps license, but that will change with the transition. These internal users will still be able to run apps and portals that extend and customize the licensed Dynamics application as long as they are in the same environment. Dynamics licenses will also no longer include Microsoft Flow capabilities. If you have flows that do not trigger from or connect to data sources within the Dynamics application, you'll need a standalone Flow license.
Add-Ons
As always, Microsoft offers far more than just basic packages to their customers. There are a series of add-ons you can get to make your PowerApps and Flow solutions work in your specific situation. The usual cap for Microsoft Portal licenses will be 100,000 users per month, and the cap for logins will be 100 per month. But if you need more capacity than that, you can add different volume tiers to your plan. These allow you to customize your app for the number of users you plan to have and change as your business grows. You can also add to your Common Data Service plan in a few different ways. For $40 a month, you can increase your database capacity by a gigabyte. For just $2 a month, you can increase your file capacity by a gigabyte, and for $10 a month, you can increase your log capacity by a gigabyte. So no matter what size system you're working with, Microsoft has you covered.
Learn More About New PowerApps Pricing
PowerApps is the best way to put power into the hands of your employees. When we all work together to solve problems, we come up with better answers and more efficient solutions. The new PowerApps pricing system allows you to dream beyond the limits and come up with business solutions that will change the world.
If you'd like to get help setting up your PowerApps system, reach out to us at IncWorx. Since 2001, we have provided award-winning support, guidance, and essential business technology to help you advance your success. Learn about our Microsoft consulting services today and start dreaming bigger for your company.