After nearly two decades, it's time to consider an InfoPath replacement. We recommend considering Microsoft Power Apps and the entire Microsoft Power Platform to replace and enhance the business applications you depend on to keep your teams productive.
Change occurs in technology, but when it does, the ripple effects can be felt across numerous industries and geographies simultaneously. People get accustomed to using a particular service or product, which is pulled away from them all at once.
Many people felt that way when it was announced at Microsoft Ignite that Microsoft would discontinue its InfoPath forms services.
Is InfoPath Being Discontinued?
Microsoft understood that it would take users a significant amount of time to adjust to not having this service available any longer. They also wanted to develop a Microsoft InfoPath replacement that would appease their users.
That is why the company included a lengthy period between announcing the end of InfoPath and when the product would no longer be supported on its systems.
There are still several years to go before InfoPath becomes a relic of history:
Microsoft has decided to discontinue InfoPath, which mainly worked on top of SharePoint, replacing it with a more cross-platform-ish alternative called PowerApps. However, Microsoft will keep supporting InfoPath till 2026, but there won't be any updates to the core product, such as feature additions.
That said, many companies and individuals are eager to learn what the InfoPath form replacement that Microsoft comes up with will look like. While they may still lean on InfoPath as a crutch, for the time being, many are ready to move on to a better option for SharePoint forms and workflow automation.
Does Office 365 have InfoPath?
Microsoft pulled the plug on any additional enhancements or expansions of InfoPath back in 2014. However, they felt that it was wise to allow users still to have access to the product in its original form if they still wanted it.
Accordingly, Microsoft still supports InfoPath in Microsoft SharePoint Server 2016, 2019 and Office 365.
Users will not see any InfoPath updates coming out at any point, and the anticipated year when InfoPath will disappear entirely is fast approaching. You can use the system up until 2026, but Microsoft will stop supporting it at that time.
Thus, all electronic form data and information should be safely transferred to another system before that time to avoid the risk of losing sensitive information.
What is Replacing InfoPath?
This question becomes a little challenging to answer because no single program will replace InfoPath entirely. Instead, the leading candidate for what will be used as a replacement for InfoPath is a new product known as PowerApps.
Microsoft hopes PowerApps will:
Allow users to seamlessly transfer their data from InfoPath or other supported services into PowerApps
Have the PowerApps service act as a facilitator for your data until you are ready to transfer it to other Microsoft products (such as Microsoft Word, Microsoft PowerPoint, Microsoft Excel, etc.).
Educate users about how to make the transition from the InfoPath system that they use now into this new product
There is going to be a learning curve for the PowerApps system, and there is probably going to be some pushback from some users. However, this InfoPath alternative will become integral to building a usable forms solution.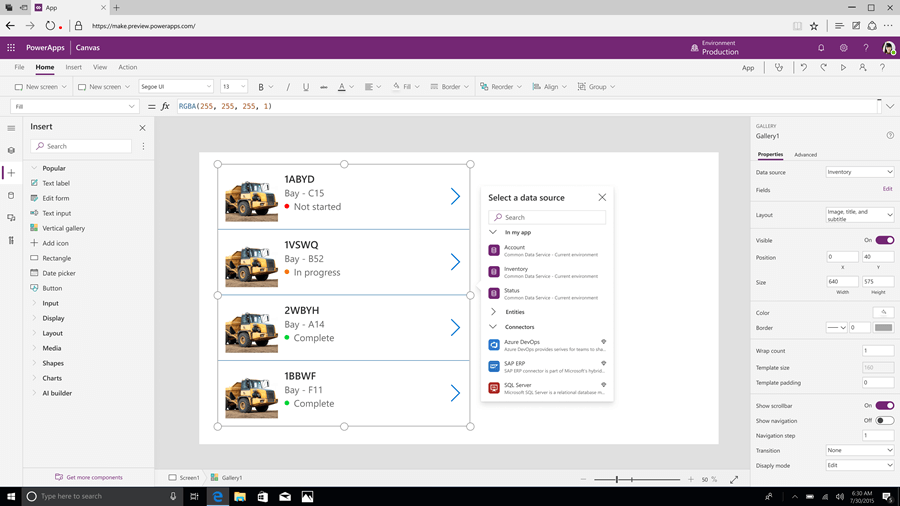 Microsoft Power Apps: Your All-In-One InfoPath Replacement
When you think of PowerApps, and the entire Power Platform, you should think of an all-encompassing business tool that allows you to get more done than ever.
Instead of being good at just one thing or providing just one service, PowerApps helps you create business apps that can move your data around to wherever you happen to need it at that time.
The business apps you create can connect to existing data stored in the Microsoft Dataverse or one of Microsoft's other popular programs such as SharePoint Online, Microsoft Dynamics 365, Microsoft 365, and more.
No matter which Microsoft products you prefer to use to help run your company, PowerApps can integrate with them. Doesn't that sound like a significant step up from the processes you are working with today?
What You Get From Power Apps
One of the best things about PowerApps is that you don't have to be a technology expert to get a lot of value out of it. The product has been uniquely designed to be as straightforward as possible. A few of the features that early users have noted as being beneficial include:
Mobile-Friendly
Work is something that you probably take on the go with you at all times. The tools of your job should be able to accommodate this on-the-go lifestyle. Unfortunately, some services and products are not designed to work optimally when viewed on a mobile device.
However, this is no problem at all when using PowerApps. The service has been crafted to be used on a mobile device, desktop, or laptop. Honestly, whatever works best for the consumer is how Microsoft wants them to be able to use it.
Simple Data Transfers
Some people's threshold for delays in transferring their data is relatively low, and rightfully so! You need that data to continue operations as quickly as possible. The sooner the data is transferred where it needs to go, the sooner that business can continue unabated.
Thus, it is critically important that people understand that PowerApps makes transferring data from one source to another speedy and easy. Stop pulling your hair out, and use PowerApps.
Office 365 Integration
Microsoft Office products are used in offices around the world. The world has seemingly collectively agreed that Microsoft Office 365 products are the best way to go.
Thus, you will be thrilled to learn that PowerApps is 100% integrated into the Office 365 ecosystem. You choose which products you would like to transfer your data to, and PowerApps will handle the rest.
Cost-Effective
You could choose many services, and plenty of other data storage and transfer options are available. However, none work nearly as well or cost-effectively as PowerApps.
It is affordable, scalable, and easy to train people on.
What other technology product are you using right now that you can honestly say covers all of those bases? For most of us, the answer is none. Microsoft has ensured that the InfoPath replacement they have come up with is something exceptional for their users.
InfoPath vs. PowerApps
A straight head-to-head comparison of the two products may prove helpful. First, we need to start by discussing what they have in common.
What They Have in Common
InfoPath and PowerApps may be used as desktop clients to help create business apps. They are both designed to produce apps for the web that will eventually be useful for passing vital data around the company. Both are noted to have drag and drop functionality and offline uses as well:
Both have drag and drop functionality to drag Sharepoint list items from one column to another. Power Apps have a simplified and easiest way to drag and drop items. Additionally, it increases the visual interest in your forms.

Both have offline capabilities. It enables users to fill out template-based offline forms with limited network capabilities. Also, a Power App enables local collections for data management without changing an application.
PowerApps has helped clean up some of the challenges that users have with InfoPath. PowerApps is easier to use and more responsive to users' needs. This will only become more pronounced as PowerApps continues to receive regular updates while InfoPath does not.
Why PowerApps Wins Head-To-Head
There are undoubtedly some true diehards who simply cannot imagine what they will do when InfoPath is no more. However, they should try to learn more about the PowerApps system and why it is superior.
There is always a learning curve when a new technology comes out, but Microsoft has done a lot to make PowerApps as intuitive as possible. They want people to make the switch over as soon as possible because InfoPath will only exist for approximately three and a half years.
PowerApps has smoothed out some of the rough edges of InfoPath, and it has much more functionality across a broader range of Microsoft products. It is the best way to build a business app within the Microsoft family of products now.
Customization with PowerApps is Nearly Endless
The amount of customization in the hands of creators who use PowerApps is nearly endless. PowerApps offers options such as:
Adding in a new video and/or audio file
Creation of various icons
Changing titles as necessary
These may seem like minor tweaks, and in many ways, they are. However, the fact that they can be done so rapidly and so effortlessly is something worth celebrating. Perhaps the most crucial feature of all is the fact that customized apps can easily be shared with various teams within the company.
At this moment in history, collaboration is at the forefront. Most companies have at least some of their employees working remotely from home. On top of that, they may have different departments all spread out across different geographic areas.
Plus, it is a fact that even when teams are housed in the same building, they still don't always share information as well as they should. Information is essential to a company's success, and it is always better when that information can be easily transferred from one party to another. PowerApps makes it much more straightforward.
Convert your latest business app creation into a program used by many teams across the country (such as PowerPoint, for example), and then share that information with everyone at the same time.
Moves like this are what separate successful companies from floundering ones. All of that just because you have made the switch to PowerApps!
It's Time For an InfoPath Replacement Project. Are You Onboard?
The reality for all InfoPath users is that they are headed towards a brick wall of sorts regarding the usefulness of the application they have grown accustomed to using. They can try to cling on to this service for as long as possible, but everyone now knows that it has a finite lifespan left, and its expiration date is just a few years away.
Thus, the more intelligent decision is to upgrade to the more holistic PowerApps.
Making a shift in how things are done is never easy. However, the improvements are well worth the trouble. When you see how PowerApps stacks up against InfoPath, there will be a clear winner.
PowerApps runs laps around InfoPath, and PowerApps is still being updated all the time for even more improved functionality. Given this stark reality, it is time to make the necessary changes to switch to PowerApps today.
Are you concerned that your team may not like the switch to Power Apps? Please contact us and let us help you figure out a better path forward. We understand that some people will put up a fight, but we also know ways to help ease them into this new transition.
Working together, we can help you make the bold moves you need to make for this switch to happen with as few bumps in the road as possible.