The rise of Power BI from a little-known platform to one of the most powerful business analytics tools in the world is nothing short of spectacular. In just under seven years, Power BI has accrued more than 5 million subscribers, a feat that lays testament to just how huge and impactful this tool has become in the business world.
A member of Power Platform's popular quartet, the business benefits of Power BI are well-known. However, not everyone seems to agree on the platform's ability to analyze and report on big data. It's a divided camp out there, and everyone seems to have their own unique, albeit misleading, perspective on the matter.
This blog seeks to dispel those misconceptions and half-truths once and for all. In it, we'll exhaustively answer the one question on every user's lips: "Is Power BI good for big data?" By the end of it all, you'll have one more reason to make this platform your go-to tool for all things data analysis.
But First, a Quick Overview of Microsoft Power BI
When Microsoft first launched Power BI back in 2014, the goal was just one: to make it the #1 BI tool for business intelligence and analytics. Looking back, the platform has most certainly lived up to its potential.
Power BI's collection of services, apps, and connectors work seamlessly to turn data into visually immersive insights. Whether your data exists in a data warehouse or a cloud application, Excel spreadsheets, or directly from a third-party API, the Microsoft BI suite lets you easily connect, visualize, and share it. All this is possible through real-time dashboards, visually stunning reports, powerful data integration capabilities, and more.
As for the main components of the Power BI suite, they're typically five:
1. Power BI Desktop: Intended for midsize businesses and is absolutely free.
2. Power BI Service: This is the SaaS version of Power BI..
3. Power BI Mobile: Perfect for bringing Power BI's extensive capabilities straight into your pocket.
4. Power BI Embedded: This is the white-level version of Power BI.
5. Power BI Report Server: Want to keep your data and reports in your own in-house servers? This version of Power BI has you covered.
While all Power BI features are quite nifty and well-thought-out, one component that's particularly impressive, in our opinion, is the Q&A capability. The idea itself is pretty straightforward. Simply type a question into your Power BI dashboard (e.g., what are my global sales for each supplier?"), and you'll be given a prompt answer in the form of a chart.
At this point in the article, one thing is irrefutably clear: Power BI is the undisputed king of data analysis services and business intelligence tools. Now, let's dive a little deeper and see how well it can handle big data.
Power BI and Big Data: A Duo like No Other
Before we go any further, let's first get the definition of "big data" out of the way.
In the simplest of terms, big data refers to enormous data sets gathered from numerous sources. Often, these data sets are overly complex and unstructured, so much so that it's almost impossible to collect, store, or process them using any of the conventional tools.
Over the years, the volume of data available has grown exponentially, in large part due to the advent of data-driven and intelligent tools. The velocity of data is growing, too, with experts saying that we create about 2.5 quintillion bytes of data per day.
Is big data important? It most definitely is, but that's only if analytics are part of the equation. Big data analytics helps organizations harness their data, wherever it may be, and use it to identify new opportunities. That, in turn, leads to smarter business moves, more efficient operations, higher profits, and happier customers.
Unfortunately, not every organization can effectively draw succinct, actionable insights from their big data sources. In fact, around 63% of businesses are currently unable to get insights from their solutions in the right timeframe or context. That's a huge bummer in every sense of the word, but fortunately enough, there's a way out.
Enter Power BI.
Here's are some outstanding features that make Power BI one of the most proficient business intelligence tools for analyzing and reporting on an organization's big data:
Unlimited Cache Size
It goes without saying that you can't possibly slice through huge and complex data sets in Power BI if you don't have the cache to match. At best, your application will lag, and you will have a pretty difficult time trying to glean insights. At worst, the program might crash with no prior warning (although this is an extremely rare occurrence).
Fortunately, an unlimited in-memory cache is one of the most notable features of Power BI as a big data analytics tool. With a premium subscription, you can seamlessly enable large datasets beyond the default limit, which currently stands at 10GB. That means more speed and flexibility to work on any size of data, which, for modern time-strapped organizations, is a huge reprieve.
Best of all, it doesn't take much to enable the large dataset storage format setting in Power BI. Assuming that you've already published your model as a dataset, here's what should naturally follow:
Navigate to the "Settings" menu
Under the "Large dataset storage format "option, click the slider to "On"
Then click "Apply"
That's it. You're done. From there, proceed to publish a dataset of any build or size, and you can be sure that your Microsoft Power BI Desktop app won't flinch one bit.
Seamless Access to the Microsoft Azure Data Lake
In modern ingest-and-load design patterns, the destination for raw data of any size or shape is often a data lake: a storage repository that holds a vast amount of data in its native format, whether structured, semi-structured, or unstructured. Data lakes support modern big data analytical requirements through faster, more flexible data ingestion and storage for anyone to quickly analyze raw data in a variety of ways.
In the Power Platform ecosystem, that data lake is none other than Microsoft Azure Data Lake Gen2.
That said, Power BI makes it super easy to ingest, load, and analyze data that's already in the Azure Data Lake. Simply launch Power BI Desktop on your computer, select "Get Data" from the "Home" tab of the ribbon, then select "More." In the Get Data dialog box, select Azure > Azure Data Lake Store Gen2, and then select "Connect."
From there, you can go ahead and perform any number of analysis services on any number of large-scale datasets without losing efficiency or speed.
Aggregation Tables
For those of you who've been around the Power BI block for long enough, chances are that you've used DirectQuery mode, or at the very least, interacted with it. DirectQuery inherently allows you to build visualizations of large volumes of data, where it would otherwise be unfeasible to first import all the data with pre-aggregation.
DirectQuery, however, is painfully slow, especially when it's the only aggregation feature at your disposal. Thankfully, there's a way to ramp up its performance, and that's through Aggregation Tables.
For example, let's say you have a transaction/fact type table where you have many different attribute columns, perhaps labeled as Date, Product, Stores, etc. While these attributes might be important for your data, end-users consuming a specific report from this dataset may spend 95% of the time-slicing through Product or Date.
By configuring an aggregation table(s), you allow Power BI to cache or save those aggregated defined results from your implicit measures. Then, when creating your visualizations and DAX calculations, the formula engine instantly associates that relationship to an aggregation table and will use that instead of the overall fact table. Now that's what we call sleek, effortless big data analysis!
Rich, Customizable Dashboards
Did you know that a whopping 95% of businesses cite the need to manage unstructured data as a problem for their businesses?
A big reason for this is the fact that many organizations have much of their big data sitting in disparate systems, and there's a lack of a centralized perspective. As such, all that data remains disorganized, jumbled, and, dare we say, useless.
Power BI can adequately bridge this gap by collating, overlaying, and presenting data from all areas of the business and presenting it via powerful, user-friendly dashboards. Within these dashboards is a slew of interactive elements of filters and actions you can leverage for snapshot, drilled-in overviews.
That said, dashboards aren't the only way to present and visualize big data in Power BI. You can leverage Power View as well, a built-in data visualization tool that makes it effortless to generate interactive graphs, maps, charts, and other visuals. Whatever data type or format you have in mind, Power View can visualize it.
Powerful Reporting Capabilities
Part of what makes big data so hard to slice through is the difficulty in presenting it in the most granular way possible. Thankfully, that's an impediment you'll never have to encounter if you're using Power BI.
Power BI's reporting capabilities are second to none. At its core, a BI report is a multi-perspective into a dataset, with visuals that represent different findings and insights from that dataset. And when we say "dataset," we mean a dataset of whichever size, shape, or complexity.
The beauty of reports in Power BI is that the visuals are never static. They update automatically as the underlying data changes. That means you and your team can interact with visuals and filters in real-time and on the go, all while gaining succinct, actionable insights into data of any size or form.
Perhaps worth noting is that a dashboard is a little bit different from a report in Microsoft Power BI. While dashboards provide a high-level view into business data, reports are more drilled-in and detailed, surfacing every tiny-teeny detail you'd want from a single dataset.
For context, dashboards are often just one-pagers, while reports typically include one or more pages. If you're looking to visualize and analyze your big data much more effectively, then you need both dashboards and reports.
If you're struggling to get the hang of some of these concepts, you can always liaise with a Power BI consultant (like us). Don't struggle when you can get help right away.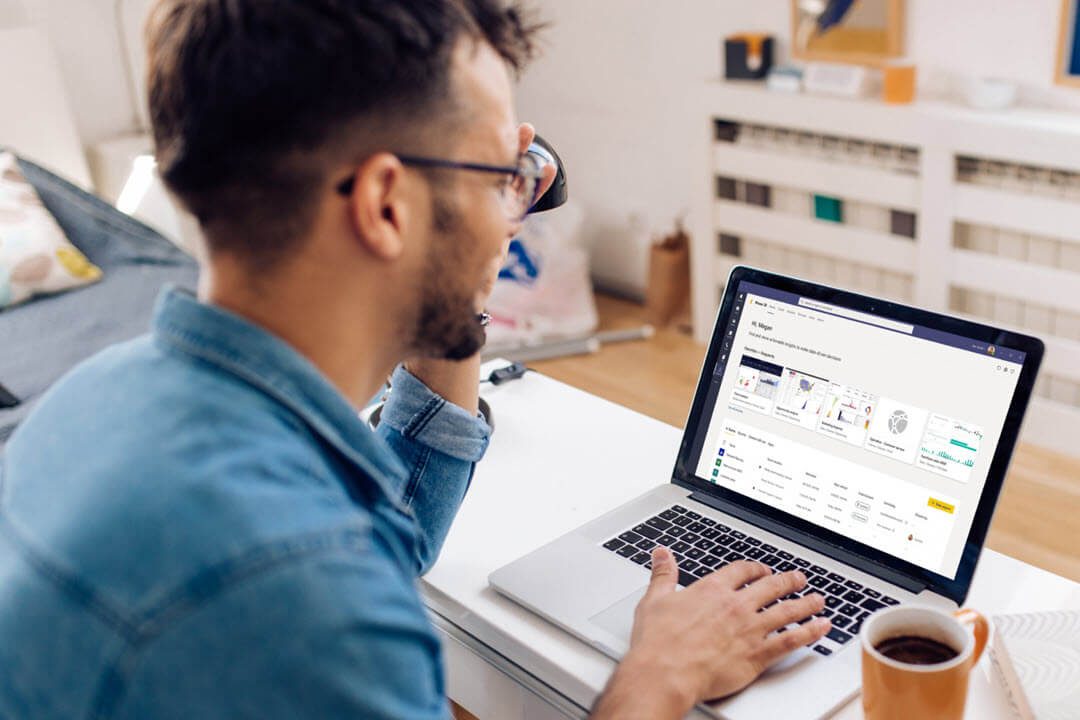 What are the Benefits of Big Data Modeling with Power BI?
There is no doubt that Power BI is an analytics and modeling powerhouse. But if you need further convincing, here are a few irresistible benefits of using this tool as your go-to big data tool:
1. Affordability
Power BI's pricing is similar to most other big data analytics tools. However, it becomes more affordable when you consider the fact that it has several different versions. This allows you to pay for the version that meets the needs of your organization without paying for what you don't need.
You can get started with the free Power BI Desktop version and prices for Power BI Pro generally start at $9.99 a month depending on the number of Power BI users you have licensed and your agreements with Microsoft.
If you are working with truly big data, we recommend Power BI Premium.
2. Near Real-Time Data Refreshes
Data changes fast and it's important to have access as quickly as possible. With Power BI, you can ensure your teams are working with the latest and greatest data, giving them a head start over your competition who may be waiting until the next data for data to refresh.
With Power BI Pro, you can refresh your data up to 8 times a day. This number skyrockets to 48 times a day with Power BI Premium. Consider what you could accomplish with dashboards and reports that are updating in near real-time.
3. A Broad Range of Connectivity Options
If you thought Power BI only integrates with the Microsoft Azure Data Lake, you thought wrong.
The platform allows you to import big data from another data source as well. These include Dynamics 365, Microsoft Excel, and so on. It also offers data connectivity with other non-Microsoft solutions. This list includes Google Analytics for marketers and Salesforce for HR or your sales department.
Is Power BI Good For Big Data? We Offer a Confident, Yes.
We sincerely hope this article has put to rest all the doubts and misconceptions you've ever had about Power BI as a big data analytics tool. One thing is for sure: with this platform, you can model and analyze big data at a pace and level of efficiency you've never experienced before.
While some of the aforementioned concepts might sound a bit complex, rest assured that they're nothing you can't handle. If at any point you need help or assistance, feel free to contact Power BI support at no extra cost. However, if you need prompt assistance that's tailored to your team's ongoing needs and emerging constraints, IncWorx is the team to call.
We specialize in helping companies like yours to maximize the use of Power BI, Power App and more. Contact us about our Microsoft consulting services today and set yourself apart from the competition!