Communication is perhaps the most important element of any business. Collaboration between employees is at the heart of ensuring customers and clients receive outstanding products and services.
As a manager, executive or owner, it's essential that you provide your employees with the best tools out there to foster effective communication and collaboration.
We live in a digital age where communication methods have changed but also improved.
Implementing collaboration software will allow your employees to communicate in real-time from anywhere with an internet connection.
Two of the best options when it comes to collaboration software are Microsoft Teams and SharePoint. Each is definitively unique while complementing the other to create a full solution.
If you are currently utilizing Microsoft Office 365, you have the luxury of utilizing the strengths of each to provide your users with a comprehensive collaboration platform.
Keep reading to learn more about the differences of each option – Microsoft Teams vs SharePoint.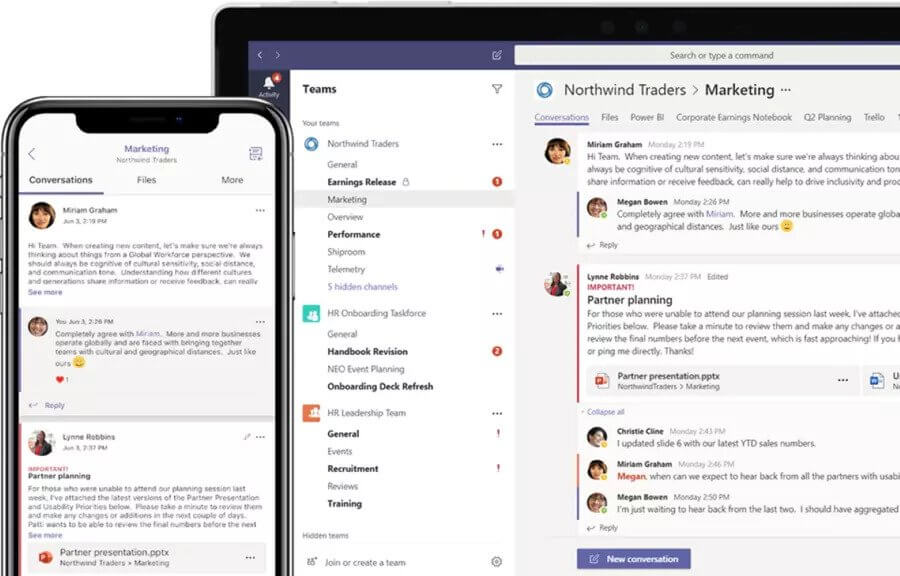 Microsoft Teams Overview
Microsoft Teams is Microsoft's newest collaboration space. A replacement for Skype for Business (and Lync, for those who have been in the industry), it allows team members to communicate and share information instantly in a variety of ways from a single workspace.
Teams is the ultimate collaboration tool. It brings together multiple aspects of communication and collaboration including one-on-one chats, group meetings with audio and video and the ability to replace your PBX phone system.
It uses a chat-based format. Using Microsoft Teams can enhance productivity and save time by providing a central location for team members to work on projects.
Each time you create a Team, Microsoft automatically creates a number of components to help the team function. These include:
an Office 365 Group
a SharePoint site
a shared mailbox and calendar
a OneNote notebook
Microsoft Teams also integrates with other Microsoft products such as Planner, Forms and Power BI. Additionally, a variety of third-party applications can be accessed including Zendesk, Jira and Trello.
One of the most helpful features of Microsoft Teams is that meetings, calls, content collaboration, and chats can be hosted in the app. This makes information and auditing easier because the information is saved in discussions instead of getting lost in emails.
Data from Microsoft Teams is stored in the Microsoft cloud, meaning team members can collaborate with each other and with their data regardless of their location.
Key Features of Microsoft Teams
Each Team created comes with a few key features by default. Here is an overview.
Teams Channels
Channels allow you to organize discussions by topic. If your group is working on more than one project at the same time, create channels to keep discussions and files organized. This also allows team members to follow only the projects they are working on.
Tabs
These allow team members to bring the tools they use daily into the channel so they have access to everything they need in one place. By default in Teams, you will see a Conversations tab, a Files tab and a Wiki tab.
Bots
These automated programs help you navigate the tool, answer your questions, and help you complete simple tasks, like scheduling a meeting.
Connectors
Connectors are services that you can connect to within your tabs. They allow you to access multiple tools without switching back and forth, saving time and keeping you focused.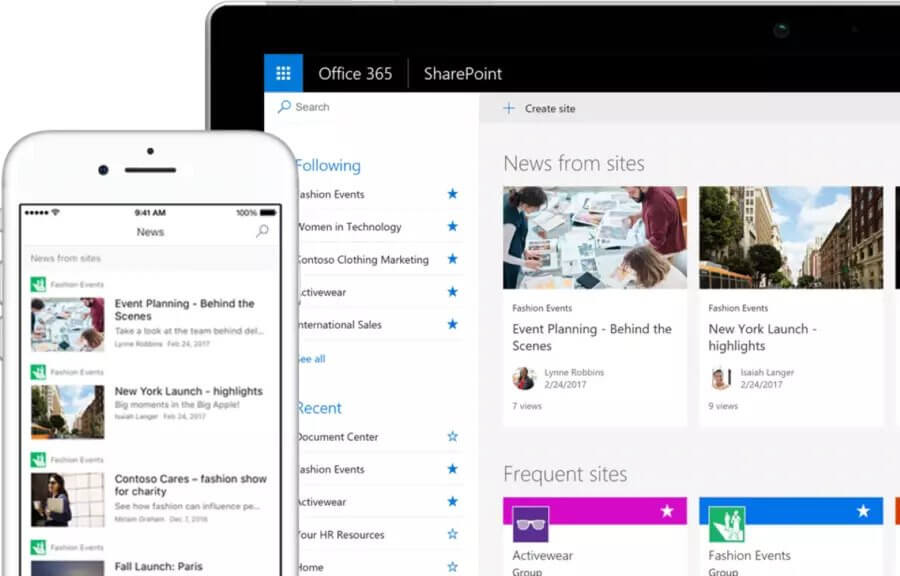 SharePoint Overview
A SharePoint team site provides a space within SharePoint or SharePoint Online where members of a team can collaborate on a project or their daily work.
With SharePoint, you can create a new site collection for each department and for every new project that you work on. It's easy to share documents and information with other team members via SharePoint teams.
Users can participate using a web browser and can add documents, events, and tasks lists to the team site. The area is also great for discussions and polls about the project.
Users can hide and restrict the information they don't want to see.
Team site leaders can set up customized views and highlight important information. This allows team members to find out what they need to know without having to dig through an abundance of communication.
Key Features of SharePoint
Just like with Teams, creating a SharePoint site provides you with some key features out of the box. They include but are not limited to the following.
Surveys
These can be created to quickly make decisions within the team. You can design the question and answer format (multiple-choice, opened-ended, etc).
Discussion Boards
Discussion boards replace email as a place for collaboration. All members can view content, post, and reply. If someone is accidentally left off an email list, they can view the discussion in SharePoint Teams.
SharePoint Lists
You can organize your information using preset lists like contacts, events, links, tasks, and announcements, or create your own list categories.
Document Libraries
When files are shared with the team, they have added automatically to the SharePoint document library on the team's site. Files and links to access them are included here for easy access by team members.
Microsoft Teams Vs SharePoint Team Sites
It's important to be cautious about how many Microsoft Teams you create because having too many can lead to confusion about where collaboration should be happening.
With SharePoint, you should create a new team site for every project. SharePoint teams should be reserved for discussing specific topics.
Microsoft Teams should be the main space where the whole group can collaborate.
Both Microsoft Teams and SharePoint allow you to connect document libraries, Planner, and Calendars. This is important because it allows team members to access information without leaving the site.
If you're using Microsoft Teams, you can use an app to connect to SharePoint. You'll also have the ability to incorporate news articles and pages from Sharepoint into Microsoft Teams.
However, this will not work both ways. You don't have to have a SharePoint Team Services-compatible client program to be able to use a SharePoint Team site.
While both Microsoft Teams and SharePoint allow outside members to access them, this is the default option for SharePoint team sites. You can turn guest access on for Microsoft Teams, but it's turned off by default.
Microsoft Teams vs SharePoint vs OneDrive
If apples vs oranges were not enough, we will now add bananas. We've discussed the differences between Microsoft Teams and SharePoint in detail. So what is OneDrive and how does it fit into the equation? OneDrive is similar to SharePoint in that it primarily exists to store documents securely.
The main difference is that OneDrive is focused on personal documents while SharePoint takes on the documents of an entire team or group. Ultimately, utilizing OneDrive for its strengths and as a complementary tool to Microsoft Teams and SharePoint is advised.
Choosing the Right Collaboration Software for Your Team
We hope this guide gave you more insight into Microsoft Teams vs SharePoint. The truth is, both tools are great for encouraging collaboration and communication between project management team members.
Throw in OneDrive and your team will be working more effectively and efficiently than ever before.
We've worked with 100's of organizations to learn their specific business needs and provide technology solutions incorporating these tools and more. To learn more about how each of these products could work for you, contact us today. We'd love to help you make the best decision for your business.