There are so many business platforms to use today, that hearing about cloud-based Microsoft Office 365 may not cause a second thought. But there is a reason that Microsoft Office 365 is used by over 180 million business owners today, in fact, there are many.
In addition to being fully compliant and easily integrated across multiple platforms and devices, Microsoft Office 365 features make businesses and employees more productive. This is true no matter what platform your team is using.
Gone are the days when you needed to be a Windows consumer to effectively take advantage of Microsoft Office 365 features. Today, your team can use Microsoft Office mobile apps on any mobile device, either Android or iOS or with a web browser on any computer.
You will not need to fight over whether your employees are Mac or PC anymore. That might be the single most efficient feature of Microsoft Office 365, but there are more.
Read on to discover ten more of the most efficient Microsoft Office 365 features, in no specific order, that you might never even have known existed.
1. Office 365 Features in Microsoft Bookings
If your business is the kind of business that books appointments for your clients, you can use Microsoft Bookings as one of the many Office 365 features you never knew existed. Book a hair appointment, a legal consultation, or just an appointment with a client or team member. For those with an Office 365 subscription such as Business Premium, Microsoft Bookings is just a few clicks away.
2. Edit Simultaneously
When your team is using Microsoft Word, one of the best Office 365 features includes the capacity to edit a document at the same time as other members of your team. This is true for any document in Word, Excel, PowerPoint, or OneNote, and it can all be done in real-time. From there you can see what changes were made, and what team members made the changes.
3. Microsoft Teams Integration with Office
In addition to being able to edit documents simultaneously, you can also chat with your fellow team members at the same time. Work together on one document or file, and discuss it over chat or audio calls. You won't even need to call a staff meeting with this Microsoft Teams (previously Skype for Business) option integrated into all Office 365 features.
4. Tell Me
Tell Me is one of the easiest Office 365 features to use and takes a Search bar on a website or document to new levels. You can use Tell Me in either Excel, Word, or PowerPoint, and it helps you to use features with ease. Open Office 365 on your computer, and try it with Word right now. Open a blank document, and then find the "Tell me what to do" field in the top right, it will have a lightbulb beside it. From there you can enter anything from "add a table" or "insert a picture" and do this in real-time with your teams editing the same file as you go.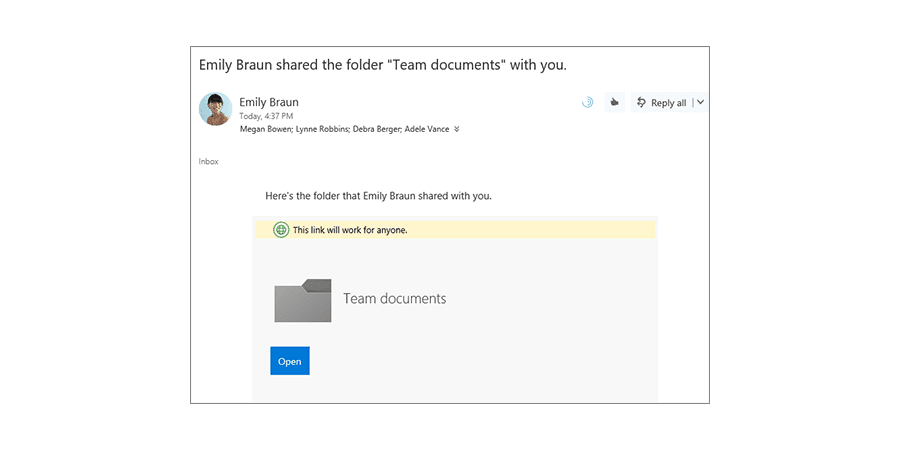 5. Linking Files, Not Attaching Them
Gone are the days when you need to share files by sending clunky attachments between team members by email. One of the easiest Office 365 features today is the capacity to link files to each other as opposed to attaching them by email.
You will never have to compress files into zip files again. Save your files to the cloud, and then send the links to whomever you want to send them to.
Send invoices, schedule changes, or just memos to anyone on your team or in your customer base.
You will not have to configure all of this on your own either. If you have any questions about how to make the most out of all Microsoft Office 365 features available to you, contact a Microsoft Consulting firm for custom solutions that integrate all of your applications and needs securely and efficiently.
6. Find Images Automatically
One of the Office 365 features that not many people know about is the capacity to use the Bing search engine to find presentation pictures for you. Use Office Sway, and this application will bring Bing image search into any file you are working on. It works well with presentations and makes creating PowerPoints a breeze.
7. Speaking of PowerPoint
Once in a while, you may be so hyped about a presentation that you forget your laser mouse pointer at home or in the car. You will not need to worry about this if you have Office 365. Open up the presentation in question and hold the CTRL and left mouse button to find a laser pointer that is replacing your mouse cursor. Done!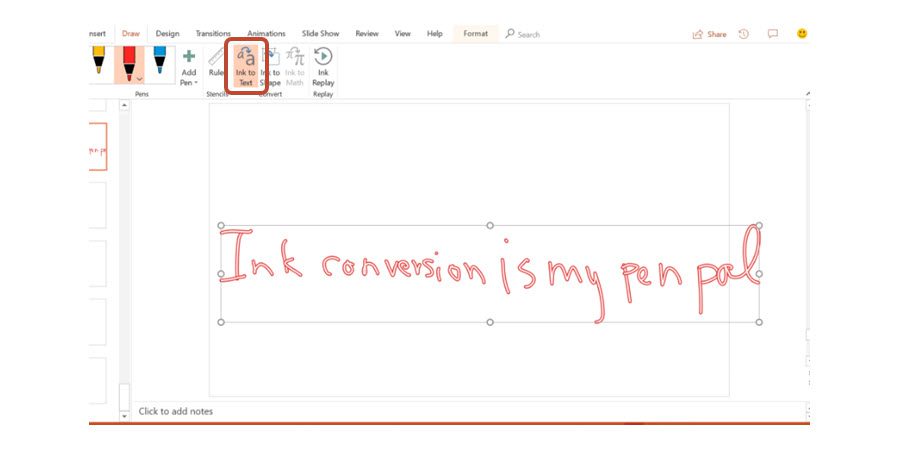 8. Convert Scribbles Into Text
We all do a little scribbling on occasion, and if you are a scribbler, one of the Office 365 features you will love is the capacity to convert a scribble into a text. For this, you will use the Lasso Select tool in OneNote, circle the area you want to transform, and click the "Ink to Text" option. Presto! Your scribbles are now legible to anyone that can read your language.
9. Electronic Signatures
Millions of global users are Microsoft Office 365 users, but not all of them know of the Office 365 features that make it easier to collect signatures. Gone are the days of sending files back and forth after signing and scanning and emailing for signatures. Today, Office 365 allows you to use DocuSign to add your own electronic form of a signature line on any one of your documents.
10. Create or Edit PDF Files
Everyone in business loves a good PDF file, it typically serves as a final document that nobody else can edit or change. But what if you want to make changes to the document? One of the best Office 365 features that many people don't even know exists still is the capacity to create and convert PDF files back and forth between Word documents. Open up a Word file and go to File, then Export, then Create PDF/XPS, and you have a PDF file. And if you want to edit it, just open the same file up in Word. You will never have to fly back and forth between Adobe and Office again.
Transform Your Business
If you are not using Microsoft Office 365 features yet, begin to transform your business today by adding the Microsoft Office Suite to your everyday business. This suite now works across all platforms and devices, whether your users are using Office apps on Android, Mac, Apple, or Windows.
When you do, you join the 1.2 billion users worldwide that are using Microsoft Office and 155 million active business users of Microsoft Office 365. Take that business and put it out into the world, where there are approximately 400 million users of Outlook.com alone.
These top 10 Microsoft Office 365 features are only the tip of the iceberg, and there are many more. Trying to consume them all in one sitting may feel overwhelming, but that doesn't mean you can't begin to transform your business today.
Improve your productivity today and begin benefitting from Microsoft Office 365 features immediately. Put your needs in the hands of a professional Microsoft consulting and support organization. We offer a variety of options for any budget including our Pay-As-You-Go offering. Let us help you maximize your Microsoft investment.