With advances in technology, today's workforce is becoming a remote one, with one survey noting that 43 % of American workers work from home on occasion. And a Census report shows that 5.2 % of Americans, almost 8 million people, work from home exclusively.
This is true not just for telecommuters, with the freelance market reported as bigger than the economies of Saudi Arabia or Switzerland. And with the freelance market alone contributing $1 trillion dollars to the United States GDP, tools to accommodate that market are in high demand.
All major tech players are offering up solutions, but Microsoft Office 365 wants to put all of your needs into one comprehensive basket so that you can have your remote workers and your productivity too.
Discover one of them here, and learn what is Microsoft Teams and how the Office 365 service can help you improve communication and collaboration.
What Is Microsoft Teams?
When you are looking for that one tool that will keep all of your workers in sync, no matter where they are in the world, Microsoft Teams is a solid hub for teamwork. If you are already an Office 365 customer, chances are you want to keep all of your tech tools in one place and in a streamlined portal.
The answer to, "what is Microsoft Teams" is, a solution that gives you the luxury of hiring whoever you want, wherever you want, and all staying on the same page through one digital platform.
It is integrated with your Office 365 suite and is available in over 180 countries and 18 languages. Use it for anything that you would do in an office setting, hold meetings, chat, share documents, and any form of business collaboration.
Each of your team members that use it will have their own dedicated phone number, and the program easily integrates with other organizations who are perhaps still using Skype for Business.
Not only that, but you can use it on any device or through your browser, and so can your team members. And, before you ask, yes it is all secure with all of your data encrypted while it travels from one of your team members to another.
But, if you are concerned about securing your platforms beyond that, a good Microsoft security consulting service can help you configure everything you need to know to meet your business needs.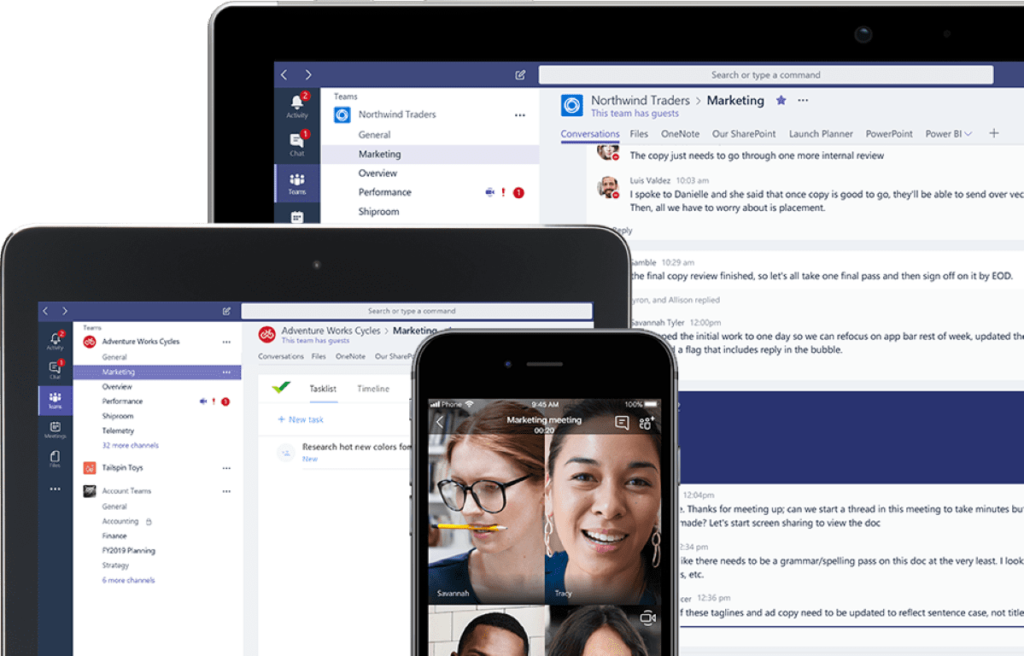 What is Included in Microsoft Teams?
Everything you want to run your remote business proficiently is included in Microsoft Teams. When your employees are asking "What is Microsoft Teams" you can tell them that Teams is designed to provide them a single location to collaborate with others in real-time. Calendars, phone calls, meetings, and document sharing are all included.
Your team members can chat via voice and video calling, or simply use instant messaging and chat-based features, which makes international conversations between different languages very easy to navigate. Microsoft Teams offers one place for all of the action, and one corner of the network can be divided into multiple different tabs, channels, and sections to keep everything straight.
Another benefit is that if you are already using Microsoft 365, it will not cost you a thing.
Private Channels and Tabs
One of the best answers to "what is Microsoft Teams" is the organizational solutions. In Microsoft Teams you have both channels and tabs so that if you have multiple Office 365 groups or departments you can keep everybody separate. Within each channel are tabs, to take your organization's organization even further. Tabs are divided into sections for Conversations, Files, Notes, and other sections that your team can customize for themselves.
This means that your marketing department can have their own channel, so can your social media team, your human resources team, you get the picture. The Notes feature is fully integrated with Microsoft OneNote, and the entire program can integrate with Word, Excel, Planner, and more. You can also create tabs for Power BI, Microsoft Forms or 3rd party services. Microsoft Teams is also fully customizable. If you want rainbows and kittens in your theme, but your colleague likes fast cars, customize your theme while sharing all of the same content.
If you're a technical user, you could even utilize Microsoft Graph to manipulate and create Teams.
Platforms and Compliance
What is Microsoft Teams compatible with? Teams is an entry point to everything in the Microsoft Office 365 suite and more. It is available with Business Essentials, Business Premium, and Business Enterprise. If you already have Microsoft 365, just go to your Admin Center, click Settings, then click Services & Add-Ins, and then, Microsoft Teams. It is supported across multiple platforms, including Windows, Mac, iOS, Android, and the web.
As far as security and compliance, all data transmitted is encrypted and protected using ISO 27001, HIPAA, FERPA, and more. You can also add two-step verification to Microsoft Teams or a single sign-on through Active Directory. If you want your team trained on the platform, Microsoft offers a number of IT available training through their Microsoft Virtual Academy, or through the Microsoft Teams Tech Community.
What is Microsoft Teams compatible with? It is compatible with all major operating systems across most major devices. No matter what devices or operating systems your workers are based on, even if they are all different, they can all find and work with each other on Microsoft Teams.
Invest in Productivity
We live in a day and age where productivity is happening at lightning speed, and today's American workers are all over the world. They need to work with their home-based team efficiently and securely, and the answer to that is Microsoft Teams.
When asking "what is Microsoft Teams" the answer is, the one tool that caters to today's remote office environment. And today's remote working environment is huge and successful.
One report notes that 16% of today's businesses are hiring remote workers, and that number is expected to climb. And of the remote workers of the world, those who are able to do so at least once a month are 24% happier and more productive.
When your team is asking, "What is Microsoft Teams" the answer is, the collaboration tool that keeps you happier and more efficient in the workday.
Bring Microsoft Teams to your place of business, and watch both your employee productivity and morale climb. Contact IncWorx today to set up to discuss your Microsoft Teams needs and make sure this productivity change is as seamless as you imagine it should be.