Did your organization just invest in SharePoint Online or install SharePoint Server? If so, you're in good company. More than 200,000 global companies and 190 million people use the software to connect and collaborate.
Launched in 2001, SharePoint has seen its fair share of innovation and racked up plenty of industry awards. One trial run and it's easy to see why.
The web-based platform simplifies everyday business activities, improves data management, and helps corporations meet compliance requirements, among other functions.
If you're new to the game, welcome! Today, we're showing you how to use SharePoint with a quick beginner's guide.
Ready to learn more? Let's get started!
What Is SharePoint?
Before we delve into its nitty-gritty features, let's take a high-level look at how SharePoint operates.
In short, it's an online collaboration system that helps business teams work together. It allows organizations to create intranets, where they can store, organize and share business information on a centralized, protected platform through a web browser.
In addition, to file sharing and file storing, it also gives companies stronger control over information access and helps them automate workflow between business units.
If you're running SharePoint Online, you're working within the Microsoft Cloud platform. This software integrates seamlessly with other cloud-based applications and can pair with other Microsoft offerings, such as OneDrive for Business, via an Office 365 or Microsoft 365 license.
It's important to look at SharePoint as a platform rather than a single tool, as it enables many different business activities.
Understanding SharePoint Sites
Any discussion of SharePoint best practices will include a mention of "sites."
These are places on the SharePoint intranet where teams can collaborate, search and save important information. Employees can invite others to work on a site alongside them, granting approval based on department, geography, common tasks, and more.
The benefit of this centralization? Before, data points were scattered across your organization, residing on disparate employee inboxes, hard drives or laptops. Now, they're all together and all actionable.
If you have authorized access to a site, you can see and access information as it's saved to the common platform. You'll also know where the latest document versions reside and who accessed them last.
SharePoint Search
Though SharePoint replaces the need for clunky, outdated filing systems, it's still a challenge to sift through digital files to find the exact PowerPoint you need.
That's where the SharePoint search tool comes in.
When you consider how much data your company creates on a normal basis, the idea of clicking through files can trigger a stress headache.
By entering the keywords you're looking for, the tool displays the files you need. Whether you're looking for a slideshow, an Excel spreadsheet, an audio/visual file or a Word doc, you can find it in an instant.
SharePoint Lists, Libraries, and Columns
The two pillars that form the foundation of SharePoint? Lists and libraries. Now that we've covered how sites operate, let's discuss how users can organize content within them.
SharePoint Lists
Most often, when your teams create content in SharePoint, they'll save it in a list.
Similar in form and function to an Excel spreadsheet, a SharePoint list consists of headings with rows of data underneath. For example, sales groups might keep a list of prospective clients in a list format.
Why use this tool instead of creating a simple spreadsheet? SharePoint lets you interact with the data in more dynamic and immersive ways by team members to:
Access, edit, add to, or update the list without starting from scratch
Link and synchronize the data to Microsoft Outlook and individual users
Organize timelines and tasks for more efficient project management
SharePoint Document Libraries
SharePoint libraries act as a containing space for your teams' individual lists. You could have a separate library for each client, partner, or even an internal department.
When users click on each library, they'll have access to the content and documents associated with that focus.
SharePoint Columns
When you open your lists and libraries, you'll see the data organized into multiple columns. How do these work?
It's easiest to think of these columns as file tags. Though their use is more complex than this, their three main functions include:
Adding extra information (metadata) to your documents
Categorizing your documents into lists
Organizing your documents for storage and search functions
To find your data in seconds, it's helpful to categorize your documents in more than one way. To do so, you can organize them into multiple columns and assign them to multiple categories, even if they're all located in one site location.
From there, you can filter, sort, and group the data in a more intricate way. Down the road, this makes them easier for users to locate.
Especially if your company supports hundreds or thousands of employees who are all creating, storing and editing documents, columns can be an ideal way to add nuance to how you store this content.
Creating a SharePoint Site
Are you ready to create your first SharePoint site?
First, you'll need an Office 365 account designated for business use. Make sure you're set up with the right user privileges.
With those steps in place, log into Office 365 as an administrator. Then, click on "SharePoint" from the app menu that appears in the top left corner.
Next, click "+ Create Site."
Next, you can choose between creating a Communication Site or a Team Site. A Communication Site is where you'll find and post HR updates, company announcements and more. Team Sites are where employee collaboration happens.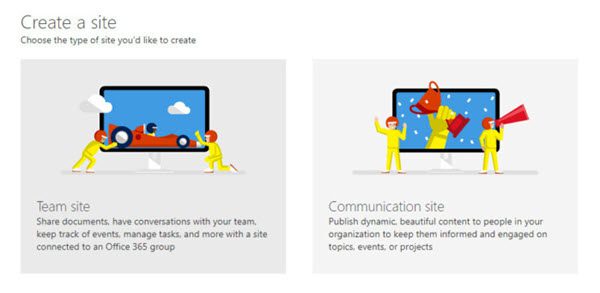 Click "Team Site" and begin creating your initial design. Even if you aren't a whiz at this step, at least give your site a name and description. Select "Finish" to complete the setup.
Core SharePoint Site Functionalities
Once the site is up and running, you'll notice a few core functions available immediately. These include:
Conversations: A private message board for your team members
OneNote Notebook: A place for employees to contribute and save ideas
Documents: Where you'll store and share documents
Site Pages: Custom web pages for your teammates
Using a SharePoint Library
From within your site, find the "Documents" tab on the left-hand menu.
Click on the "+ New" button. Use this to add files to an existing library or create a new one. If you add an Office file, it will open in the appropriate web app.
If you add a non-Office file, you'll have one of three options:
Open it and preview it if it's a web-friendly file type (e.g. PDF)
Download it to your device, where you can open it with the right program
Open it in the appropriate web app if you're in Windows
How does that last part work? Windows and SharePoint speak to each other, so even if you don't have the Office suite installed, Windows still recognizes the app to use.
When you access and adjust a file within a library, you can do so at the same time as someone else. This simultaneous editing feature is a modern upgrade to the "checkout" process that former SharePoint members used.
Still, you retain the ability to "check out" a file if you want to lock editing by anyone else during your session. This way, no one can save a new version of the file while you're still working on it! While they can still download it and work on it, you'll have to press "check-in" before they can save their version.
Making SharePoint Site Pages
Want to turn your SharePoint site into a mini-intranet for your team members? Make Site Pages, which are only accessible to and viewable for those in your designated group.
You can save text and images on each site page. Click "Pages" in your left-hand navigation menu. When the top menu bar appears, click "+New." Your page types will include:
Site Pages: Blank spaces you can create with only a title
Wiki Pages: A place for team members to collaborate on content creation
Web Part Pages: Pre-designed layouts with dashboard-style features and widgets
When you select your page type, the page will open and you can begin editing. Once you're finished, click "Publish" to make the page viewable to your team members. A list of all the pages you have access to is on your left-hand menu.
Adding Apps to Your SharePoint Site
Want to make your SharePoint sites even more dynamic? Why not add apps?
Offering more flexibility and functionality than web parts, these give you more creative control and allow you to handle data in different ways.
Let's use the Task app as an example.
This resource lets administrators create to-do lists for their teams. You can add new tasks, assign individuals, track progress and mark the job "complete" once it's done.
On your site's home page, click "+New" and then click "App."
Here, you'll see a page of all the available apps. Any time you select one, it shows up in the "Site Contents" tab of your left-hand menu. Open it up and you're ready to start delegating!
Learn How to Use SharePoint and Succeed
Clear lines of communication are critical to keeping your teams afloat. If employees don't have real-time visibility into document updates, chaos can ensue.
As you learn the ropes and figure out how to use SharePoint to improve efficiency in your own organization, we'd love to make the process as easy as possible.
We provide professional SharePoint consulting and SharePoint support services to businesses investing in Microsoft technologies. Since 2001, we've provided Microsoft Consulting Services to more than 800 clients, reaching organizations in various sectors from financial and non-profit to legal and energy.
Contact us today and we'll help you get up to speed on SharePoint and other tech tools that can transform your business from the inside out.