What is the Microsoft Power Platform? It sounds like something you want to add to your list of valuable technologies to enhance your business. Today, we will look at the Microsoft Power Platform and the differences between PowerApps and the Power Platform. When you step away from this piece, you will understand these concepts and why they matter for your business.
What is the Microsoft Power Platform?: The Basics
Growing a team of competent employees who can easily pass information back and forth to one another is no small task. Many of those employees are not necessarily well equipped with the knowledge they need to handle some of the more complex technology products available today.
This was the issue that Microsoft saw when they set out to create the Power Platform. They decided it might be best to create something more valuable to a broader population segment, which is why they came up with the Power Platform. Here is a basic definition of what it is:
The Microsoft Power Platform is more than the sum of its parts. Connect them together—and to Microsoft 365, Dynamics 365, Azure, and hundreds of other apps—and build end-to-end business solutions.
Essentially, it is a simplified platform that allows users to get on board with the concept of collaborating as effectively as possible. When users hop on the Microsoft Power Platform, they can create various ways of presenting data to one another in the most effective ways possible. This may include:
Video presentations
Charts and graphs
Infographics
Visual display of critical metrics
Recordings that may be viewed at a later date
All of the essential elements of an effective business are all tied up in a program like this, and users will find that they are better able to take care of the aspects of showing others on their team what they have been working on without the burden of having to learn complex new systems.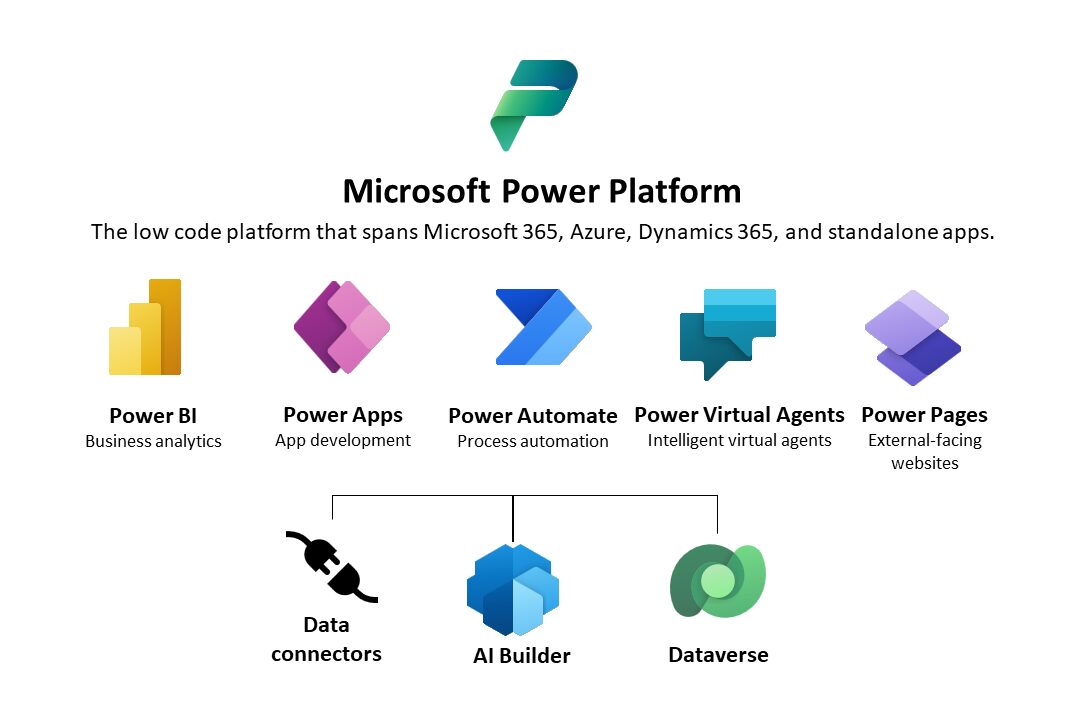 The Major Components of the Power Platform
The Power Platform is segmented into four major components; you should know a little about each.
Microsoft Power BI
The Power BI segment of the platform allows you to swiftly and efficiently create interactive business intelligence reports that you can use to see how your company is performing in various ways.
This part of the system allows you to access data from literally hundreds of different programs, including the following:
Wherever you need to pull your data from, the Microsoft Power BI segment of the Power Platform can likely make that much easier for you to do. Bringing it together under one umbrella can help you see how all data relates.
Users say they have saved hours by bringing bits of data from various programs into one place. Not only that, but the Power BI system can help you with its suite of data modeling tools to make the business process of converting that data into something more usable a lot easier on you and your team.
Microsoft Power Apps
Build professional and stunning business apps without having to learn an entirely new computer language. You can do it all by using the Power Apps feature of the Power Platform. You will start to see all the pieces come together in ways you probably had not anticipated.
Within this program, you can:
Allow Your Entire Team to Build Apps – You never know where a sudden flash of genius will come from, and you don't want to squander the creativity of someone on your team. Anyone on the team can become a citizen developer and use Microsoft PowerApps features to build their business apps whenever possible. The collaboration will skyrocket as people from throughout the organization all get to take a stab at creating something unique.
Professionals Gain More Functionality – Professional app creators gain even more functionality for the apps they create because they can use tools such as Azure Functions to help expand the range of possibilities for the apps they are working on. You need to see this when you have someone working for you with a track record of building great apps.
Get Off the Ground Running – One of the things that people cite time and time again that they love about Power Apps is the fact that they can get off the ground running very rapidly. This program scales quickly. Launch any ideas you and your team have very rapidly, and take advantage of the tools that Power Apps offers.
Microsoft Power Automate
Most companies run hundreds of processes that could benefit from automated workflows. Power Automate can eliminate the busy work that your team currently must complete.
The best thing about this feature is that your team likely already knows which processes they could stand not to do manually. If that is the case, they are the best ones to start using the Power Automate process to get those extra burdensome processes out of the way immediately.
Microsoft Power Virtual Agents
Virtual agents frequently assist customers, which can help them receive rapid answers to their questions. These virtual agents may also be able to take care of some of the more manageable tasks that one might otherwise have to deal with at a human level. A Power Virtual Agent can help your human staff alleviate some of the most significant strains from their day automatically, and it just makes sense that this is the route you should take.
A few other excellent things that Power Virtual Agents can help with include:
Automatically keep track of your key performance indicators (KPIs)Built-in security
Easily engage with customers and employees in multiple languages
Build and test bots that can help your business more efficiently
The Power Virtual Agents part of the Power Platform can be one of the most dynamic and valuable features. It is undoubtedly not something that you can easily overlook or skip past!
How is the Power Platform Different from PowerApps?
Those who frequently deal with Microsoft products have undoubtedly heard about the tool known as PowerApps. Microsoft defines Power Apps as:
A suite of apps, services, and connectors, as well as a data platform that provides a rapid development environment to build custom apps for your business needs.

Using Power Apps, you can quickly build custom business apps that connect to your data stored either in the underlying data platform (Microsoft Dataverse) or in various online and on-premises data sources (such as SharePoint, Microsoft 365, Dynamics 365, SQL Server, and so on).
Others describe it as an inspiring tool used by businesses of all sizes to create business apps and tools to help grow. This makes it sound similar to the Power Platform itself. PowerApps is merely one application development tool part of the more prominent Power Platform itself.
What is so Great About PowerApps?
Every user will tell you a little different about why they like PowerApps so much, but the bottom line is that it is simply an effective tool for which many have found great uses. For example, it can help in all of the following ways:
Create Apps Rapidly – No more slow app development process. Create a business app or a mobile app quickly and get them into use immediately. Your employees and users will surely appreciate the ability to create things of fair value for them.
Storage Data in Various Ways – You can keep things as straightforward or complex as possible when storing your data within the Power Platform. Mix it up according to your needs, and you will find great success across the platform.
Excellent Connectivity – PowerApps connects automatically to more than 230 different cloud-based services.
Custom Controls – You can create custom controls that help you as the creator choose who will get to see which kind of projects and who can work on what. You can also develop controls within the apps you create to ensure that users of your apps can access the specific features you have designed for their use, and only in the ways that you want them to do so.
PowerApps is an excellent component within the large Power Platform. Overall, the Platform offers many more features than just PowerApps, but both are useful for getting things done as a business.
It is so important to keep people focused and on task to handle the things that they are supposed to work on, and this is why PowerApps has proven to be such a critical component of the overall system.
What Positive Impacts Can One Experience When Using the Power Platform?
One of the first things business owners notice when using the Power Platform is that it brings together separate pieces of content. Many users describe using the Power Platform as a great weight lifted off their shoulders. They realize they are finally free to take care of the aspects of their jobs that they need to.
There is no more waiting and hoping that things will get better. Power Platform fundamentals help make it happen by leveraging various valuable tools for any business.
More Flexibility
Creating a new business application and using virtual assistants to help get more done adds great flexibility to what a business does.
This is important as it means you can put your focus on the things that it needs to do to grow. Using the Power Platform to monitor your growth and create unique products is a huge deal.
Greater Collaboration
The word "collaboration" is not just some fancy buzzword thrown around to sound critical. Collaboration between teams is the backbone of what makes a large enterprise effective.
Far too many large organizations are isolating themselves by holding pieces of data. They don't share information across departments, and progress is inevitably lost. Power Platform apps make it easier for teams to share and accomplish more than they otherwise would have been able to.
Faster Results
Finally, many see much faster results using the Power Platform than any other system. This is mainly because the Power Platform is user-friendly.
Even people who will honestly admit that they are novices when it comes to all things computers can find some upsides to using something such as the Power Platform. They don't have to learn coding languages or anything of that nature. Instead, it is all built to make things easier for the end user to develop what they need to right away.
We offer Power Platform consulting services if you need help understanding the dynamic ways it can improve your business outcomes. Or you can contact us with your questions. We are happy to provide the details you have been curious about.