Technologies
Imagine Your SharePoint Migration Without The Headaches
SharePoint migration services are tailored to reduce the downtime and complexity of your migration.
Limited Downtime Migrations To Keep You Moving
You need a SharePoint site migrated but you're afraid it will slow down your business? IncWorx has got you covered. We specialize in the migration process and can migrate your SharePoint data to a new SharePoint Server or complete a SharePoint Online migration with minimal downtime.
We specialize in mission-critical, high-risk projects – both of which rely on our ability to deliver a successful outcome with the shortest possible downtime. Our team is comprised of data migration experts who have been with us for years, guaranteeing your peace of mind. Past solutions have included a variety of scenarios.
Complete Farm Migration
Content Migration
Site Collection Migration
File Share & File Server Migration
Bulk Migration with Metadata
SharePoint List and Document Library
Lotus Notes Migration
Tenant to Tenant Migration
SharePoint Migration Tool
SharePoint Online Migration Tool
SharePoint Migration Assessment Tool
3rd Party Tools – SharePoint Desktop, DocAve Migrator
Get Started With The SharePoint Migration Process
Step 1
Schedule a Free Consultation
You've got a business challenge. Our team is ready to talk to you about finding the right solution on a free 30-minute discovery call.
Step 2
Choose The Service That's Right for You
Your budget, your needs, your capabilities. We will present you with options and you choose the one that works best for you.
Step 3
Meet With Your New Senior-Level Expert
Get senior-level staff assigned directly to your project. They'll learn everything about your business and get to work.
Step 4
See Results Immediately
Don't wait to get faster, more efficient, and more capable. You will immediately see results and the difference in working with us.
Your Needs. Our Expertise. Let's Get To Your Work
You deserve more than cookie-cutter consulting. We have a solution customized for your needs, budgets, and goals. Let's get to work.
Project Microsoft SharePoint Migration
When you have a project with a defined outcome, you want a defined scope of work. Our SharePoint Admin Scoped Projects provide a roadmap to success, with the budget and timeline set in advance. No surprises. Just success.
SharePoint Server Staff Augmentation
There's no need to hire full-time staff to solve temporary problems. Our staff augmentation services deliver senior-level expertise to your day-to-day work, for as long or as short as you need it.
Short-Term Pay-As-You-Go Support for SharePoint Server
Work directly with a professional SharePoint Migration Manager. With online purchase options ranging from two hours to two weeks, this is a great way to troubleshoot a number of outstanding issues you're experiencing in your environment all at once, receive direction and recommendations or quickly ramp up your skills.
Featured Case Study
Nonprofit Sees Immediate Benefits of SharePoint Migration
This nonprofit, consulting industry customer provides services to the civic sector with a focus on solutions that improve the quality of life for those in need. The customer had been utilizing SharePoint 2010 for internal documentation and as a reference point for information about their clients and corresponding projects. Locating data on the SharePoint platform was heavily reliant on an integrated, third-party search application from Coveo, also outdated and nearing end-of-life.
"They did a great job assisting with our Sharepoint migration to the cloud."
Arlene
Experience To Get The Job Done Right The First Time
Each SharePoint site migration is unique. They can be pretty complicated. Luckily, our team of senior-level Microsoft SharePoint Server experts has seen it all. We know how to make it work… and most importantly, we know how to make it work for you.
Save time. Save money. Let's get it right the first time.
Our Wide Range Of SharePoint Migration Expertise
Migration Project Planning
Considering a migration but not sure where to start? Our team will work through each migration task with you. Feel confident in the decisions you make in your migration project.
SharePoint Upgrade Planning
Even the best SharePoint farm becomes outdated. Our team will make sure your move to a new SharePoint version is smooth. Enjoy the benefits of improved functionality, security and support.
Pre-Migration Cleanup
Don't waste time, energy and money moving a bunch of data that is no longer needed. Our team will work with you to review data and identify any opportunities for clean-up before the actual migration.
Infrastructure Planning & Prep
Putting the right hardware in place creates a solid foundation for your migration or upgrade and allows for future growth. Whether on-premise, in the cloud or hybrid our team has you covered.
Administration & Configuration
Ensure your new environment is speedy and ready for the long term. Your SharePoint consultant will configure your new SharePoint environment properly from the very beginning.
User Adoption & Training
It takes more than high fives from your IT team to call your migration project a success. Users must be able and willing to use the new system. Your SharePoint expert will make sure your Microsoft teams are ready to go.
SharePoint Security
Ensuring your data is secure is our number one priority. From hardware configuration to user permissions, we will ensure your data is more secure than when we started.
Governance
Make sure you have a clearly defined set of policies, roles & responsibilities, and processes in place to control how you will use your brand new SharePoint environment.
Custom Applications & Development
Migrating custom-developed applications, such as InfoPath forms, takes careful planning, review and analysis. Our team will audit each of your applications, document a road map and execute the upgrade.
SharePoint Branding
With every new version of SharePoint comes a new look and feel. Work with our team to design and develop branding that matches the personality of your brand.
Relevant Articles To Help With SharePoint
Our experts are here to guide you through the latest trends that can change the way you work.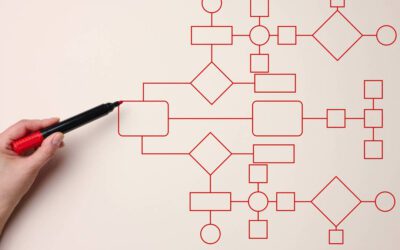 Having solid business processes is key to helping your company thrive. However, managing them takes a lot of time and, thus, a lot of money. Employees performing routine tasks such as entering data into a system are not doing stuff that directly supports productivity....